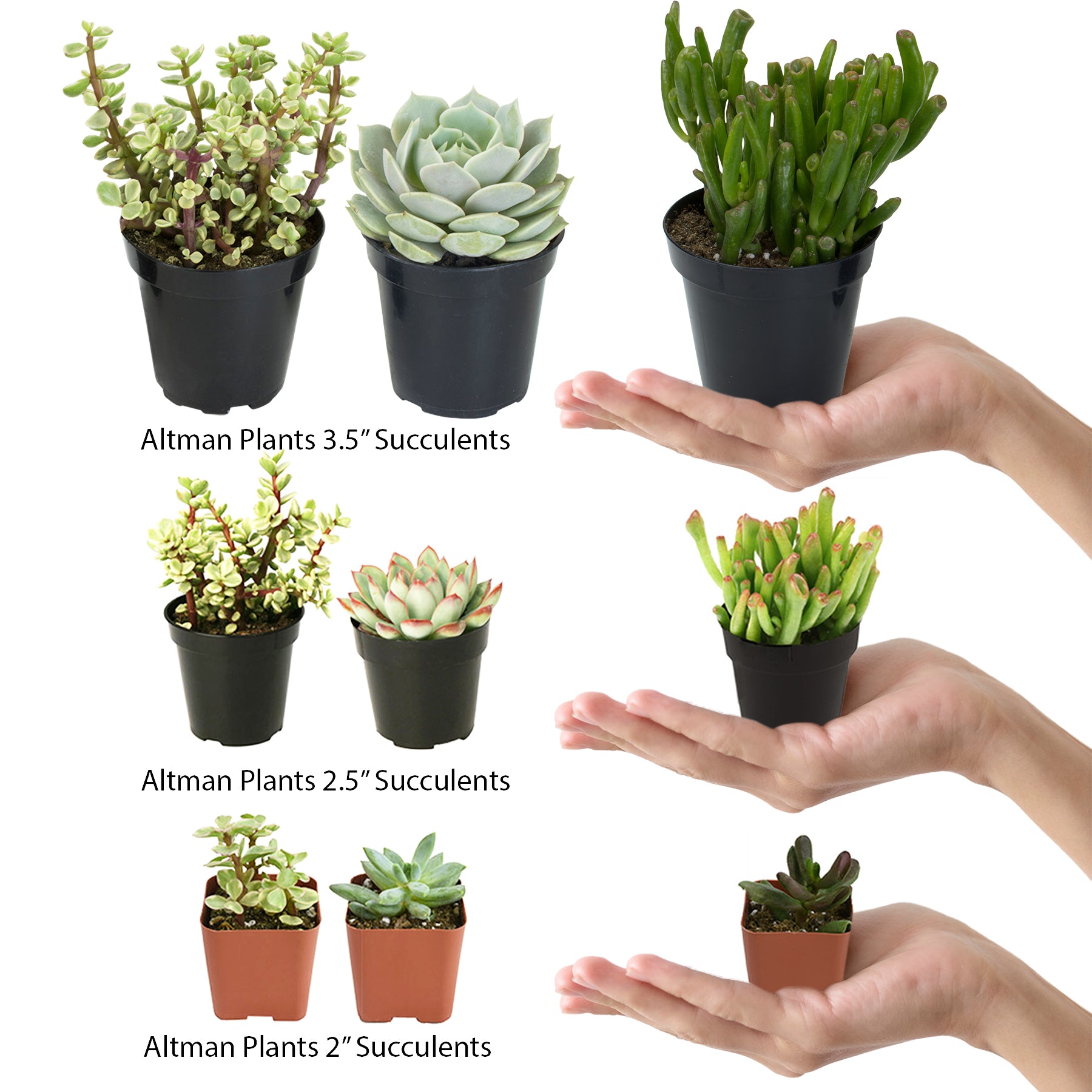 2 Inch Assorted Succulents 20 Pack - Live Succulent Plants (20 Pack) Assorted Potted Succulents Plants Live House Plants in Cacti and Succulent Soil Mix - Cactus Plants Live Indoor Plants Live Houseplants in Planter Pots
Price: $40.49
Sku: 0850866
DESCRIPTION
Featuring eye-catching foliage, forms, and seasonal flowers, these succulents are easy to grow and grow great together in gardens or any container, expressing themselves in charming, vivid ways throughout the year. Perfect to start your succulent collection and enjoy the many different textures, shapes and colors these varieties bring. Easy Care Plants. Low maintenance.
Depending on availability, product mix may include a selection of Aeonium, Aloe, Crassula, Echeveria, Kalanchoe, and Sedum varieties. Your order may contain other varieties than listed as well as duplicate varieties. All plants are carefully packed at our facility by our succulent shipment specialists. Our shipments come with helpful care instructions.
APPEARANCE
Part of what makes succulents so fascinating are the myriad ways they express themselves throughout the year, depending on light, season, temperature, soil, and hydration. For those and other reasons, the plants you receive may not look exactly as they appear on our website.
AT-HOME GUIDANCE
Caring for your new plant is easy with Greg's help. You'll receive a companion app that provides ongoing 2 Inch Assorted Succulents 20 Pack - Live Succulent Plants (20 Pack) Assorted Potted Succulents Plants Live House Plants in Cacti and Succulent Soil Mix - Cactus Plants Live Indoor Plants Live Houseplants in Planter Pots care, plant health tips, and help from a community of other Altman customers that will ensure your new plant thrives in its new home.