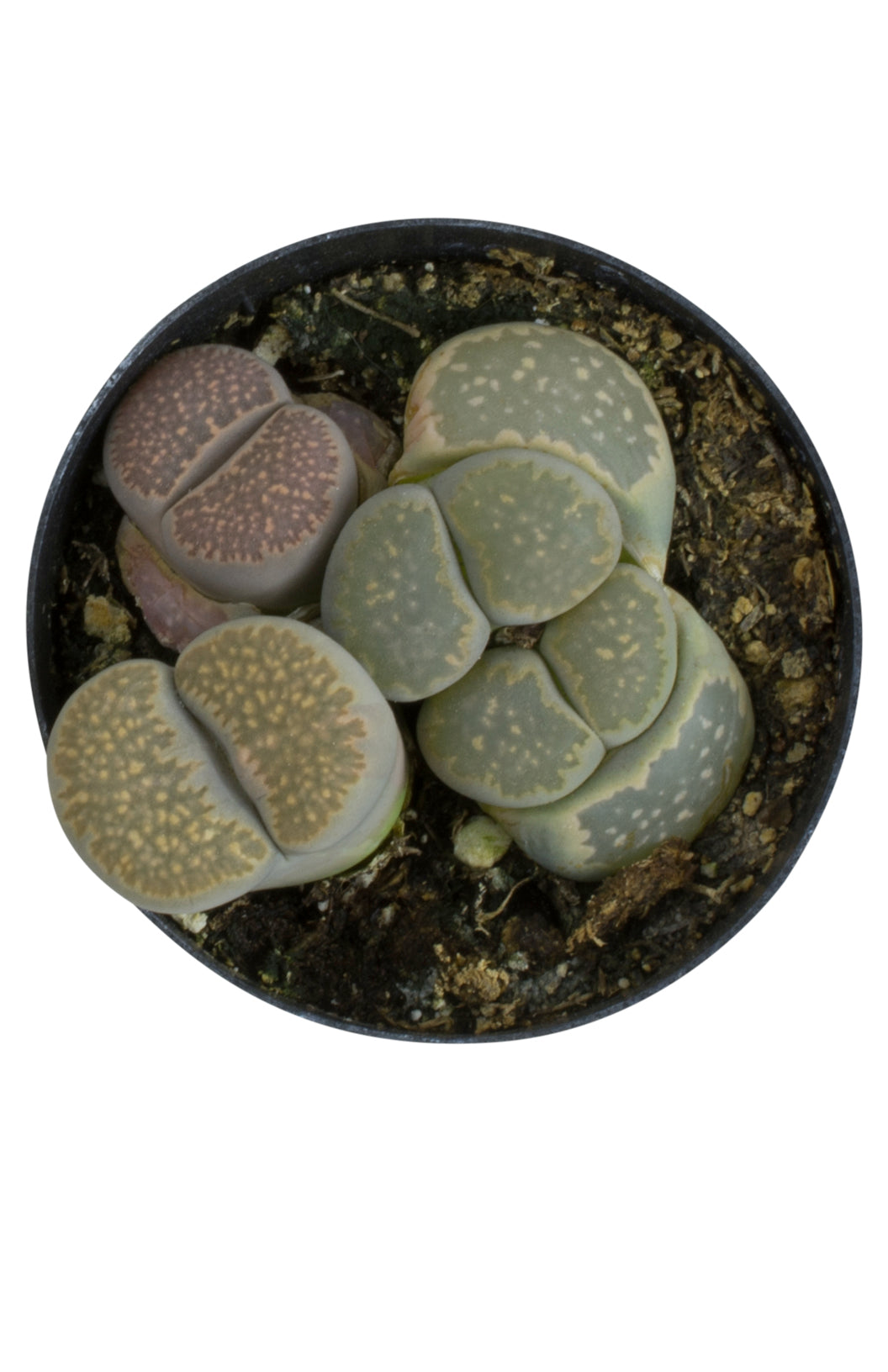 Lithops spp
Price: $8.50
Sku: 0850160
DESCRIPTION
There's no ifs, ands, or "butts" about it -- lithops (living stones) are pretty intriguing lifeforms. The genus Lithops is in the family of Aizoaceae (synonymous with Mesembryanthemaceae), which also includes the various forms of plants known as ice plants and those known as mimicry plants. A single body can be to 1.5" in diameter, and is split by a central "cleft", creating the "bilobed" body. Plant is nearly obscured by flower heads to 1" in diameter that are composed of frilly, satiny yellow or white petals. These delightful plants can confuse even experts, as no two seem to be identical in appearance. Many species eventually form clusters, and in the native habitat of South Africa, clusters gradually spread to from large colonies of lithops that can span 6 feet in diameter.
SURVIVE & THRIVE 
Recommended pairings: More lithops!
Bloom time: Summer to fall
Size: To 2" tall
Porous soil with excellent drainage (extra pumice recommended)
Bright light with adequate airflow
Water thoroughly during spring and late summer & fall when soil is completely dry to the touch
Hardiness: USDA Zone 10a (30-35° F)
APPEARANCE
Part of what makes succulents so fascinating are the myriad ways they express themselves throughout the year, depending on light, season, temperature, soil, and hydration. For those and other reasons, the plants you receive may not look exactly as they appear on our website.
AT-HOME GUIDANCE
Caring for your new plant is easy with Greg's help. You'll receive a companion app that provides ongoing Lithops spp care, plant health tips, and help from a community of other Altman customers that will ensure your new plant thrives in its new home.