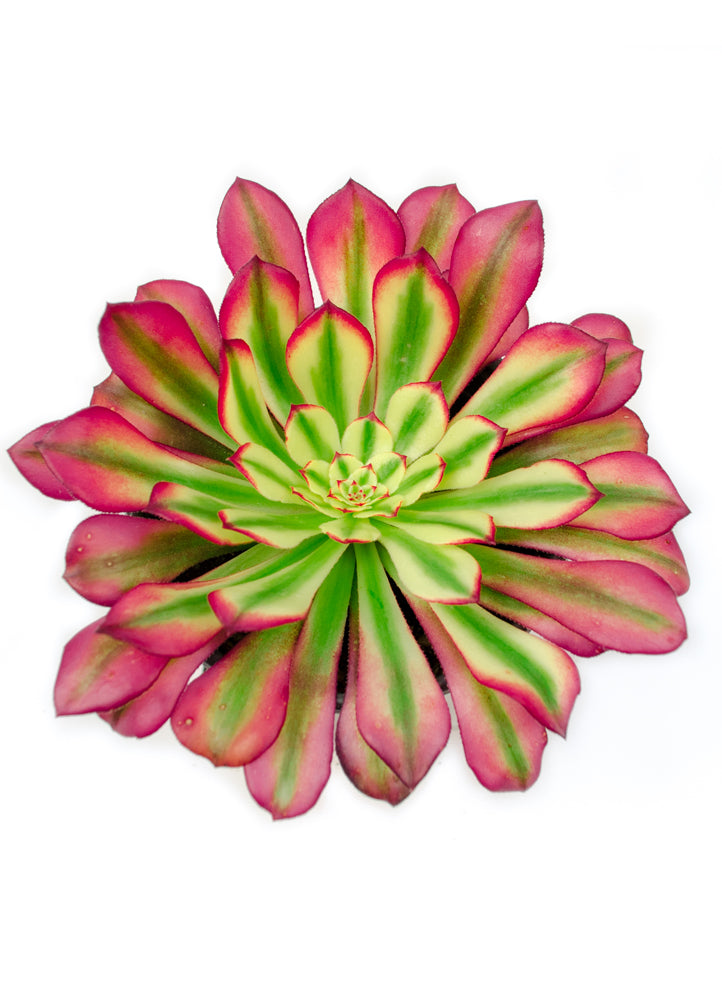 Aeonium 'Mardi Gras' USPP21,407
DESCRIPTION
Aeonium 'Mardi Gras' USPP21,407 is a patented succulent hybrid created by Altman Plants. The magnificent tricolor variagation of Aeonium 'Mardi Gras' is absolutely cause for celebration. Rosettes of lemon yellow leaves with emerald green midstripes blush ruby rose, especially when grown in bright light or when temperatures are cooler. Aeonium 'Mardi Gras' displays seasonal color variation in response to different stressors, microclimate factors, and growth/dormancy cycle. These effects may result in dark-red/burgundy shades versus creamier and lighter rose tones.
This hybrid is drought tolerant when established and requires well-draining soil. Water thoroughly and allow to dry before watering again. Protect from frost. This is an Altman Plants original hybrid. International Succulent Introduction # ISI 2014-08 Huntington Botanic Garden # HBG 120329
SURVIVE & THRIVE

Recommended pairings: Coming soon
Bloom time: Spring to Summer
Size: Up to 12+ inches tall and 12 inches wide
Requires porous soil with excellent drainage
Provide full to part sun and ample airflow
Water thoroughly when soil is dry to the touch
Hardiness: USDA Zone 10b (35-40° F)
APPEARANCE
Part of what makes succulents so fascinating are the myriad ways they express themselves throughout the year, depending on light, season, temperature, soil, and hydration. For those and other reasons, the plants you receive may not look exactly as they appear on our website.