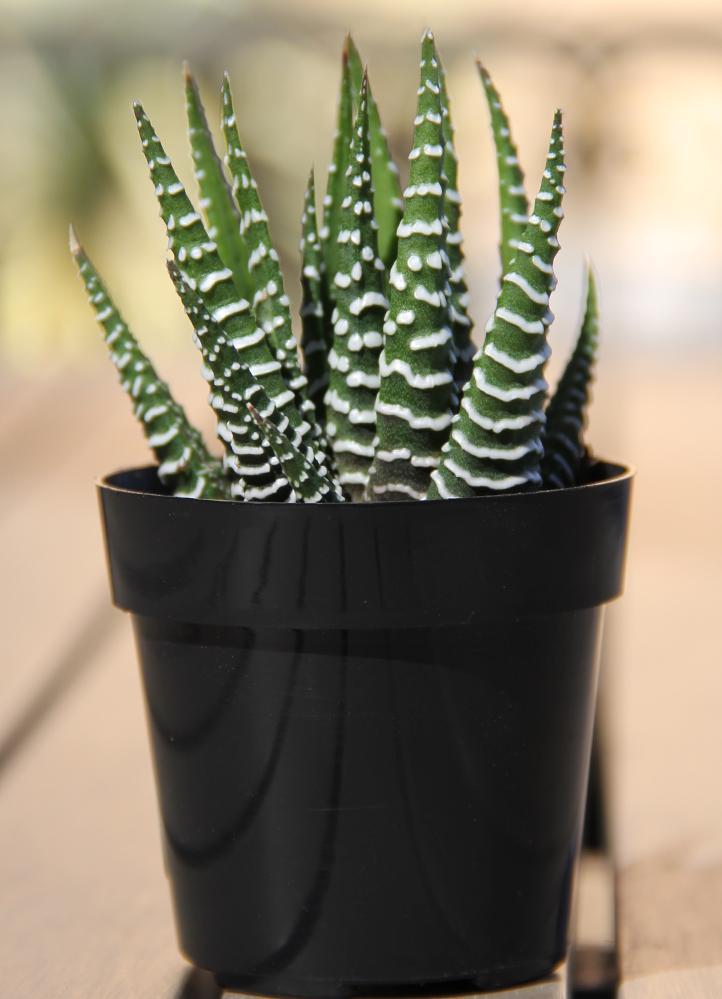 Haworthia fasciata "Zebra Plant"
Price: $5.10
Sku: 0850477
DESCRIPTION
Haworthia fasciata, native to South Africa, forms an upright, slender rosette with tapering incurved dark green leaves covered with silvery white raised "pearls" that connect to form bands that give the impression of zebra stripes. Beautiful, heirloom favorite that makes an excellent houseplant or windowsill plant. Haworthias are winter growers and are dormant in the hottest summer months. Require very porous soil with excellent drainage as many forms have thickened tap roots. Prefer filtered, bright light. Those species with red veining or chocolate faces will exhibit superior color in bright light. All forms that are green, especially included the variegated forms, will prefer filtered light.
SURVIVE & THRIVE 
Recommended pairings: Aloe variegata, Gasteria 'Little Warty'
Bloom time: Late winter to early spring
Size: Up to 6 inches tall
Plant in very porous soil with excellent drainage
Filtered light to bright, indirect light
Water thoroughly when soil is completely dry to the touch
Hardiness: USDA Zone 10a (30-35° F)
Protect from frost
APPEARANCE
Part of what makes succulents so fascinating are the myriad ways they express themselves throughout the year, depending on light, season, temperature, soil, and hydration. For those and other reasons, the plants you receive may not look exactly as they appear on our website.
AT-HOME GUIDANCE
Caring for your new plant is easy with Greg's help. You'll receive a companion app that provides ongoing Haworthia fasciata "Zebra Plant" care, plant health tips, and help from a community of other Altman customers that will ensure your new plant thrives in its new home.